On Tuesday evening, San Leandro hosted it's first food truck event, sponsored by Food Truck Mafia, and located in the heart of downtown San Leandro. Although this site is eventually slated for use as a development, this location and this event, were to serve as the initial test of the idea that San Leandro could host an even such as this, and would set up future weekly visits of 8 to 10 food trucks to the downtown area. The obvious hope of an event such as this, beyond the excitement of the food, is that it offers a glimpse into the potential for a wider variety of food businesses in San Leandro, and if successful, illustrates that there is a demographic of people willing to support a broad selection of food options.
Present at this first event were trucks featuring a variety of foods, from sushi to burgers, hot dogs to ricotta lemon donuts and a lot of anything else you might want. I fear that I may have tasted something from every truck on site, something of a weakness, when I am presented with too many easy options. I hit the scene a little after 5:30 and this is what met me.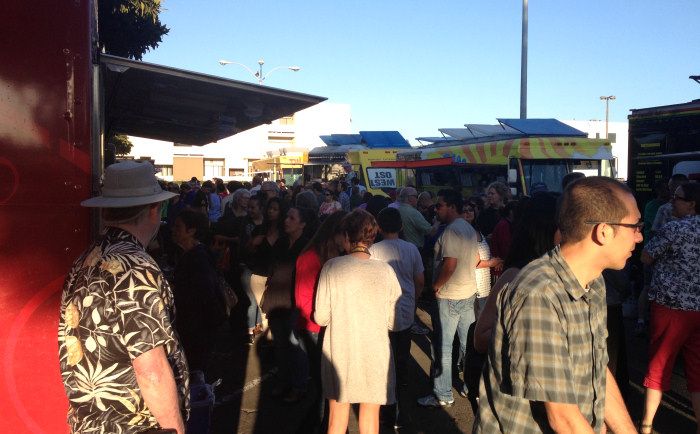 A solid crowd, to be sure, and it was good to see, despite my loathing of crowds, I wanted to see that
San Leandro would support this event, as I believe that when you create excitement in an urban core, with events such as this, you start to create an enduring sense of life in the space. One of the common complaints I hear, is that there are no good places to eat in San Leandro, and that people in this area do not want/support good food. While far from fine dining, food trucks are not cheap, and while this was novel for this location, many of the people I chatted with were familiar with at least a couple of these trucks, and were excited to be able to buy from them close to home. My interest, beyond what people thought, was how long would the crowd last. At 8:00 p.m. the crowd looked like this...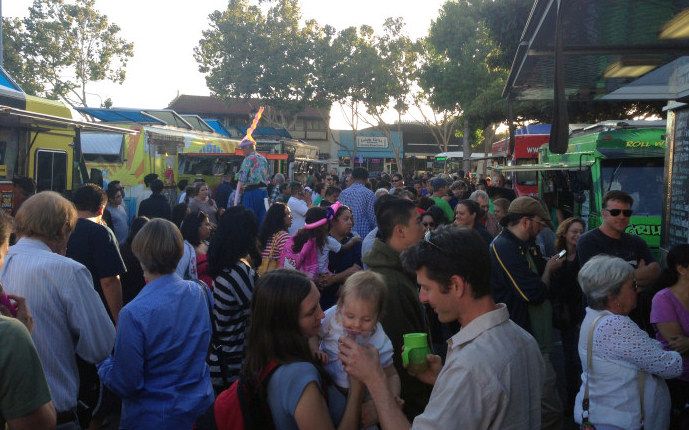 What of the food? Well, I am something of a food enthusiast, and I have a strong background in terms of cooking and eating. This is not elevated food, and to be sure, you can get more filling food for less money. So what is the 'thing' about what one of my neighbors referred to as 'fancy roach coaches', why have these trucks come to be so popular, and driven so much enthusiasm for a product that is neither a bargain, nor exceptional. They are a phenomenon, and something that I have yet to hear any solid ideas about, and that would include several contributions I have made to other articles about them. It is something of an oddity, many of these trucks are staffed with cook with real kitchen chops, some are producing exceptional street food, and in most cases, the food is quite creative, if sometimes kitschy. And yet, for a Tuesday night (death night in the restaurant trade), this really created buzz. Of course, going forward, over the next few weeks, will that be maintained, that is the real question.
In one way, I believe these trucks, and these types of events, appeal very heavily to the young Gen-X and Millennials, the plethora of options, the intense crowds and sense of being in the moment, I believe have a great attraction to people who have grown up in a time when technology and culture reward mobility and choice making. And to some degree, the idea that you can have it all. Looking at the crowd, there were many people with young children, and strollers, many families. In a very large sense, it appeals to people who are used to being 'on the move'. In much the same way that many of the great young minds who are becoming the new guard of our economy, people who are in love with the idea of a variety of experiences, cultures, places and times, see in these events the type of experience they seek. Not to sit down at one table for a leisurely dinner evening, but, to interact, touch and return, or move to the next group. In feeds on itself, making connections, eating fun food, turning the idea of dinner into it's own clubby feel, a shared moment. In the end, this is what our downtown needs to start providing, those moments that tie us to our City.